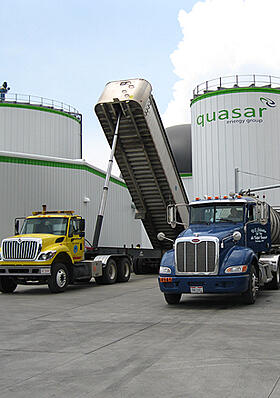 In Washington, DC, there is a talking-heads policy forum nearly every day, but few generate as much buzz, at least in energy circles, as the one held earlier this week by the New Republic (video here). There, White House advisor Heather Zichal said that the President's much-anticipated climate plan could be announced "in the weeks ahead," as other reports have hinted at July for a rollout. The plan, she said, would touch on three "key opportunities," namely higher energy efficiency standards for appliances, accelerated development of renewable energy on federal lands, and greenhouse gas regulations on electric power plants – possibly including existing power plants, not just new ones, the regulations for which are already past due.
"We have never as a country put forward a [greenhouse gas emissions] regulation on new or existing coal plants before," she said. "And I think whether that's the President or the team over at EPA, everyone is very focused on making sure that those policies are done the right way, that those policies are going to provide the right incentives going forward, the right policy to really drive emissions reductions. And I'm very confident that we'll land that policy in the right place."
For advanced energy, such regulations could accelerate the turnover of capital stock in power generation, hastening the retirement of old, high-emissions coal plants and encouraging development of new high-efficiency natural gas plants and zero-emission options such as wind, solar, hydro, and nuclear. Stay tuned.
In the Northeast, however, the talk this week was of turning food scraps into energy. Already one of the most attractive states for renewable energy investment, Massachusetts is now looking to become a leader in biogas development. The state is drafting regulations that would require companies and institutions producing more than 1 ton of food waste per week to take it out of the waste stream, at the same time regulators are streamlining and clarifying the permitting process for anaerobic digestion facilities, which turn organic waste into methane-rich biogas.
Waltham, MA-based Harvest Power is one company that is ready to respond to the opportunity to tap food waste for energy. "We'll build one [food waste-to-energy plant], demonstrate the model, show everyone how it works," CEO Paul Sellew told the Boston Business Journal. "At that point, you'll see a rollout in Massachusetts."
With barely six months left in office, New York Mayor Bloomberg also showed he's not done making waves, this week announcing a plan to decrease landfill use by requiring collection of food waste. Building on pilot programs that have proved more successful than anticipated, the citywide push to recycle residential food scraps will start out as voluntary, but could become mandatory by 2016. The city will initially seek a composting facility that could process 100,000 tons a year, followed by a call for a facility to produce biogas from the food waste. The city has some biogas production already—the water treatment process generates power by anaerobic digestion of sewage.
When it comes to food waste-to-energy, an industry that generated over $600 million in revenue in the U.S. in 2011, the Northeast may be playing catch-up to agricultural states. Currently, there are only two anaerobic digesters in Massachusetts, apart from those at Greater Boston's wastewater treatment facility. But in Ohio, quasar energy group has two just in the city of Columbus and the company announced earlier this month it had begun construction of its fifteenth digester in Franklin, Ohio, which will accept regional food waste and biosolids from wastewater treatment.
There was news in Massachusetts on the offshore wind front as well. A Danish pension firm announced a $200 million loan to help finance Cape Wind. PensionDanmark CEO Torben Moger Pedersen pointed out that the fund already invests in offshore wind parks in Europe, saying the Cape Wind deal "fits very well into our business portfolio."
Also other news, IKEA announced that it had partnered with several non-profits to outfit community centers in New York and New Jersey with solar panels. In Texas, Gov. Perry signed Property Assessed Clean Energy legislation into law. And, after months of handwringing about slow sales, electric vehicles are now flying off the lots, in response to sharp price cuts. In advanced energy, like anything else, Americans love a bargain.