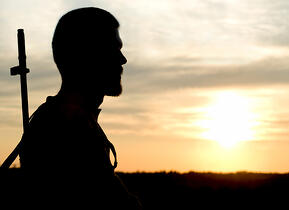 The military has long been the single largest consumer of energy in the United States. In fact, fighting a war today takes 16 times the energy it did during World War II due to mechanization, remote locations, and more advanced technology. The Army uses so much fuel it accounts for half the supplies they carry. As a story this week in USA Today points out, the U.S. military now sees its dependence on fossil fuels as a source of risk and vulnerability – and is now doing something about it. "Because of our thirst for liquid fuel, we're not as light and agile as we once were, putting both our Marines and our expeditionary capabilities at risk," Gen. James Amos, the Marine Corps commandant, said in 2011, explaining the military's turn toward new energy options.
The military is working to make their energy supply more advanced in a variety of ways, with everything from algae-based diesel and jet fuel to large-scale photovoltaic systems on state-side military installations to intelligent microgrids powering mobile air bases. This week saw the Army Corps of Engineers move into geothermal, as five companies were prequalified to contract with the Department of Defense to build and maintain geothermal energy projects. These five companies, which include Constellation NewEnergy, ECC Renewables, Enel Green Power North America, LTC Federal, and Siemens Government Technologies, have been vetted by the Army Corps of Engineers for potential power purchase agreements.
The geothermal announcement was the first step toward awards of up to $7 billion for renewable and alternative energy production for DoD installations under long-term contracts. Over the course of this year, the DoD will also go through a round of prequalifications with solar, wind, and biomass energy projects to facilitate such power purchase contracts.
"To reach the Army's goal of deploying 1 gigawatt of renewable energy by 2025 will require a different way of doing business with the private sector," Col. Robert Ruch of the Army Corps of Engineers said in a news release.
In other news, Ford's advanced vehicle models are on track to outsell Toyota's, whose Prius and hybrid Camry have long been the best selling hybrid vehicles in America. With strong sales numbers from the first quarter of 2013, however, Ford looks to be America's hybrid vehicle of choice this year. "We're turning, conquesting and growing our sales the fastest in the largest hybrid markets in the country," said Ford spokesman Erich Merkle. As for electric vehicles, after a profitable Q1 2013, shares of Tesla stock jumped 12%.
The solar panel manufacturing market may be stabilizing after several panel manufacturers were shuttered last year. Due to increased demand from markets like Japan and better supply management, AEE member company First Solar has sold out of panels through the third quarter.