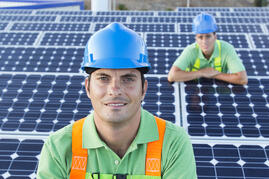 According to Greentech Media, 22 out of the 29 states with Renewable Portfolio Standards (RPS) are facing legislative challenges to them. We covered several of them in Tom Plant's State Policy Update on AEE's new blog. Those challenging existing standards are up against economic counter-arguments—advanced energy is a more than $1 trillion global industry—and public opinion. Opponents of Arizona's RPS failed in their efforts to gut the policy, in part because of popular support for solar energy. In a recent survey, six out of 10 Arizona residents named solar their top energy choice. Natural gas was a distant second, with just 9 percent of Arizonans naming it as their top energy source.
New Jersey's Board of Public Utilities announced that the state has installed 1 gigawatt of solar capacity. Governor Christie, in a statement released with the announcement, called it an incredible achievement. "It is clear that New Jersey will remain one of the largest solar energy markets in the United States," he said.
The U.S. is carving out a larger piece of the global solar market, according to a new report out by GTM Research and the Solar Energy Industry Association. The American solar market grew by 76% in 2012, to more than 3 gigawatts installed. As the market expanded, prices of installed PV systems fell 27%, which allowed a record 83,000 homeowners to install solar PV last year.